A 15-mt long boat from the Bavaria boatyard , spacious and comfortable, it has 5 cabins and three bathrooms, it can accomodate 8 to 10 people. It offers a high degree of comfort and a great security due to its sea-loving qualities.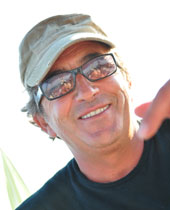 Skipper: Fabrizio
Fabrizio comes from Florence and was born in 1957. He has been saling forever, he's got a deep knowledge of the sea, of sailing and of all the nice restaurants along the Tyrrhenian coasts. A bon viveur and a great cook, he's always in a good mood, he's known and loved by everybody for his naturally nice, amusing character.
He's a skuba diving instructor, and can boast crossing the Atlantic and sailing all over the Mediterranean sea and the Caribbean sea.He is Margot's skipper, which he considers his 15-mt ''baby''.